Kehrer Group Annual Checkup Charts Steady Growth
Much of the media attention on investment services in financial institutions has focused on banks, from the large wealth management sales forces of the mega banks to the regional and community banks.  This year's Kehrer Group Annual Industry Checkup illuminated the growing importance of credit unions in the financial institution financial advice community.
The number of banks offering investment services has shrunk 65% since 2011, while the number of credit unions in the business has grown 26%.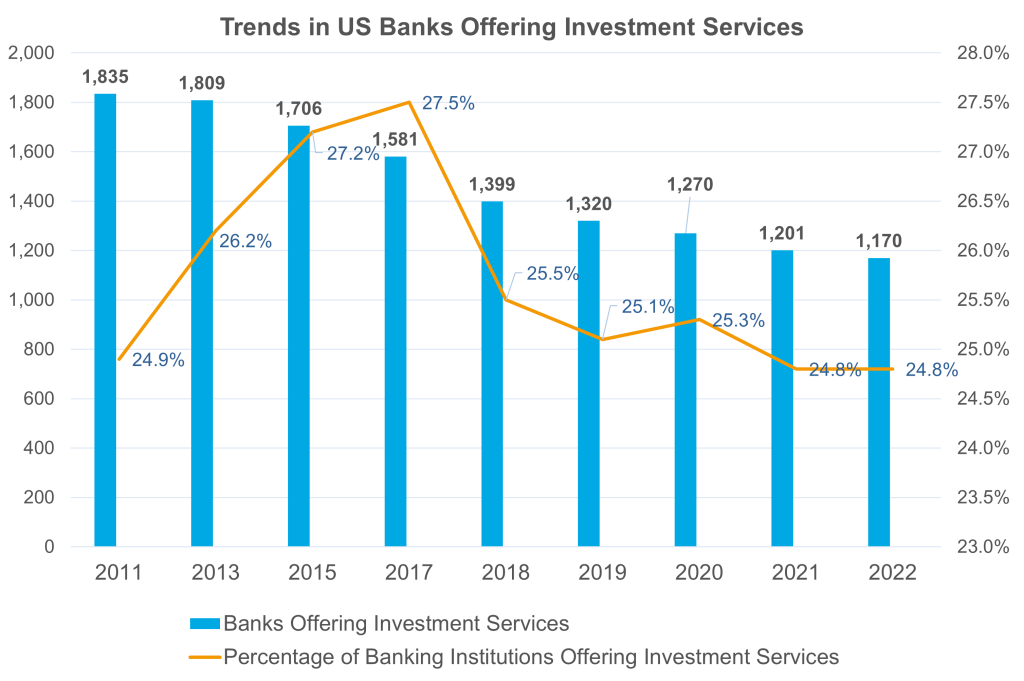 Both banks and credit unions have been consolidating, with the number of banks declining 49% and the credit union population dropping 61% during that period.  But the share of credit unions offering investments has increased steadily to 22.3%, almost doubling, while the share of banks providing investment advice to their customers has declined from its peak of 27.5 % in 2017 to 24.8 %, essentially the same as nine years ago.
Other signs suggest that credit unions are thriving.  According to the NCUA, credit union membership has increased 12% over the past 3 years.  Importantly for the branch-based model of investment services in financial institutions, American Banker analysis found that credit unions opened 1,524 net new branches since 2004, while banks closed 5,938 branches.
Financial Resources Group Investment Services President Steve Lank is also seeing growth among the firm's credit union partners. "It's wonderful to see many of our institution partners continue to thrive, especially during turbulent times," said Lank.  "A large handful of our  investment services programs at credit unions have reported record growth within the last couple of years and we are thrilled to have helped play a part in each of their successes.  We are seeing a record number of members utilizing the investment services programs' offerings to help them pursue their financial goals.  Looking ahead, we have a strong pipeline of institutions who are interested in a partnership and very much look forward to helping take their investment services programs to the next level."
Since 2012 Kehrer Group has combined proprietary and industry data to provide an annual review of the health of investment services in banks and credit unions. The data for this year's report cover 1,419 of the banks and credit unions that provide investment services, which collectively manage 6,018 advisors.  This year's Checkup is sponsored by Terrapin Technologies and Financial Resources Group.
Based in Fort Mill, SC, Financial Resources Group is LPL Financial's largest enterprise*, providing customized services to financial advisors and financial institutions to help them grow their programs and practices. Representatives are registered through LPL Financial as their broker-dealer.  For more information on Financial Resources Group, visit https://www.financialresourcesgroup.net
* Based on assets (brokerage and advisory), total revenue and affiliated professionals as of December 2022.
Securities and advisory services offered through LPL Financial, a Registered Investment Advisor, member FINRA/SIPC. Financial Resources Group Investment Services, member FINRA/SIPC, is a separate entity.
Kehrer Group is not affiliated with or endorsed by LPL Financial and Financial Resources Group Investment Services.